Community Outreach 2007
Community Outreach 2007
Did you know that LRR does more than rescue, rehabilitate, and find homes for unwanted dogs? On this page you can find out more about just some of the things LRR is doing to help dogs throughout our community.
---
December, 2007
Donated two sets of animal oxygen masks to Charles County Government Emergency Medical Services Division in LaPlata, MD. We will be donating additional sets of oxygen masks in 2008.
October, 2007

LRR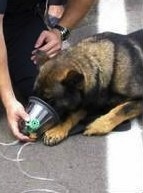 has donated sets of animal oxygen masks and resuscitation bags to Delmarva Search and Rescue, and to East Coast K9 Search and Rescue. Both of these groups work in the DC/MD/VA/DE regions and also travel to provide support during national disasters. Their dogs fearlessly work in dangerous environments to help rescue people, and this equipment will help the dogs if they are injured.
LRR also made a monetary donation to Caroline County Tail Waggers 4-H to help them acquire oxygen masks for Maryland's Caroline County EMTs and fire companies.
LRR participated in the Paws for a Cause 3K pet walk to raise money for Fairfax Pets on Wheels, an all-volunteer organization in Virginia that provides therapeutic pet visitation to residents of nursing homes and hospitals.
September, 2007
Provided free vaccinations to dozens of dogs at the LRR annual alumni picnic, and arranged for a licensed veterinarian to volunteer his time to administer the vaccinations. We administered 30 bordatella, 11 rabies, and 24 DHLPP vaccinations for our adopters dogs, saving the adopters approximately $1,950 in veterinary fees.
Arranged for free Canine Good Citizen testing for dogs and their owners at the LRR annual alumni picnic. Ten out of twelve dogs passed the test and gained their CGC certification.
Made a donation to the West Springfield District Station K-9 unit for the purchase of bullet-proof vests for their police dogs.
August, 2007
Paid for and provided collars, leashes, and harnesses to the Washington, D.C. Humane Society.
July, 2007
Donated three boxes of DHLPP vaccines—enough to vaccinate 75 dogs—to Maryland's Montgomery County Humane Society.
June, 2007
Sponsored an LRR dog in his AKC Rally Advanced title, to promote and support training and well behaved dogs.
May, 2007
Provided four bottles of Benadryl and paid for needed medications for a family whose dog suffered from severe allergies, and advised family on allergy testing and treatments.
Donated two trophies to Mt. Vernon Dog Training Club for their obedience trial held in Fairfax County in October.
March, 2007
The canine companion of an elderly woman in Fairfax County, VA was vaccinated and tested for communicable disease as required by local law. The dog's owner had recently under gone debilitating surgery and was unable to arrange for her dog to visit the vet. An LRR volunteer picked up the dog and took her to get her vaccinations and yearly testing. The extra care taken to ensure the Lab was up to date on her vaccines and tests greatly helped the recovering woman's peace of mind.
February, 2007
Frontline flea and tick preventative was provided free of charge to our 53 Loyal Order of Labs dogs.
January, 2007
LRR donated a Petco gift card to Maryland's Montgomery County Humane Society to help them provide for the animals in their care. The MCHS in Rockville, Maryland is a non-profit animal welfare organization that has provided animal sheltering services for Montgomery County for over 40 years. They shelter approximately 10,000 animals and service the animal-related needs of approximately 100,000 people yearly.
LRR made a monetary donation to the Carroll County Humane Society in Maryland, to assist with an animal that had been starved and was in need of medical attention.
LRR also donated Wal-Mart gift cards to Maryland's Caroline County and Virginia's Fauquier County animal shelters to help them purchase much-needed supplies.